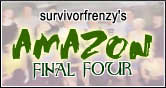 Episode 11: Here we go again, another unexpected boot this week. Backstabbing Rob claims another victim in Christy. After Chris K., Linda C. falls out of contention leaving 9 still in the running.
1. Rhonda A.
2. Oscar_Golf
3. Forrest Jones
4. Chris K.
5. Tom
6. Joe Haskell
7. Cafunston
8. Linda C.
9. Errol C.
10. SurvivorLeo
11. Lola and Duke
IN DANGER! Heidi, Jenna, Rob
- Jenna gets sick making her an easy target. Will she win back-to-back immunities? Is it her time to go?