[ News ]
SOUR GRAPES: Christy feels the sting of the vote
| | |
| --- | --- |
| | At Tribal Council, Christy was proud enough to say that she felt in control of the game. She was pretty confident that she'll make it to the Final Four. Well, that's what she thought. Behind her back, Rob cooked up another of his schemes, this time to vote out Christy whom he thinks is being too confident about her status. And in spite of all the tension between them, Rob was still able to get Heidi and Jenna to side with him in the upcoming vote. Together with Matthew, they were powerful enough to seal Christy's fate in the game, 4-2. Official CBS episode 11 summary |
[ Snapshots ]

| | |
| --- | --- |
| | Take a look at the environment that hosted Survivor: The Amazon for 39 days. click here |

| | |
| --- | --- |
| | - Recap the action at this week's Tribal Council: Who voted for whom & Christy's final words. click here |

- Read Survivor Frenzy's exclusive Tribal Council transcript. click here
[ Next Episode ]
- The Survivors react to Butch's bizarre behavior when he obsessively stacks firewood everywhere throughout the camp.
- Returning to their camp, the Survivors find devastation after a fire rages through their shelter and belongings, leaving them with nothing but the clothes on their backs.
- Believing they are on the chopping block, Jenna and Heidi refuse to help in rebuilding the camp. Will this seal their fate?
- One Survivor is worn out and sick, and begs to be voted out. Will the others comply?

[ Quote Unquote ] episode 11
"Jenna and Heidi were under the impression that... they will ride this majority 'til the end. But now, the tables have completely turned and it's Jenna and Heidi who are gonna have to kiss some serious ass... to ensure that one of them makes it at least three more (days)." - Rob
- more quotes in our archives
[ Survivor News Bits ] updated: 04/26/03
- Survivor: The Amazon is nearing the end of its run, and fans are eagerly anticipating the next season of the phenomenal reality game show. According to the schedule presented by the producers during the application period, the seventh season will start taping in June and finish by mid-July. As with past seasons, hardcore Survivor fans are busy spoiling the show's next location. Rumor has it that of the places specified by MB as probable Survivor locations, Mexico stands out as the most probable. Wezzie and Dan Bollinger of SurvivorMaps have been scouting the country for possible filming locations. Aside from Mexico, other highly probable locations are New Zealand and the Mediterranean. Survivor 7 is expected to be aired this fall.
| | |
| --- | --- |
| - Survivor has caused yet another casualty, but this time it is not among its contestants. Neither is it because of the environment. Host Jeff Probst have reportedly been suffering because of an abnormally full bladder which, was previously misdiagnosed as a prostate problem. This was said to be caused by his restrainment from urinating during his time in the jungle. | |
Probst admitted that he sometimes did this because he did not want to be a cause of delay for the show's taping. This is another addition to his long list of misadventures during tapings of previous seasons. It can be remembered that he got electrocuted because he urinated in an electric fence. He also got stung by a jellyfish near his genitals and also had a close encounter with a reticulated python.
[ Pic of the Week ]
click photo to enlarge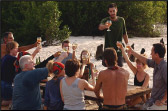 The castaways raise a toast together with their relatives and host Jeff Probst after the reward challenge which Matthew won.
[ Final Four ]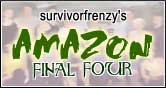 check out if your predictions are still alive after Christy's elimination.
click here
[ Downloads ]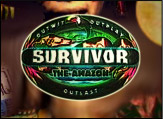 Perk up your desktops with these cool original Survivor wallpapers.
click here